81
UVIGO
RESEARCHERS

19
EXTERNAL FUND
RESEARCHERS

35%
WOMEN
4.3 M€
R&D FUNDS

171
Publications
(JCR)

97
Publications
Q1 (JCR)
Research results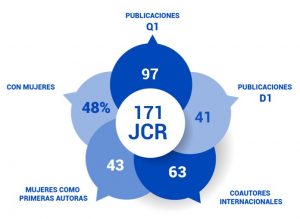 The number of articles published in high-impact scientific journals indexed in the Journal Citation Reports (JCR) database, of Web Of Science (WOS), has remained above 140 per year since its creation, reaching 171 publications indexed in JCR in 2021.
Funding
Cintecx stands out for its ability to raise funds from national and international calls for research projects and from collaborations with companies.
In addition, the research groups attached to Cintecx receive stable structural funding, as they are recognized by the Xunta de Galicia as GRC (Competitive Reference Groups), or GPC (Potential Growth Groups).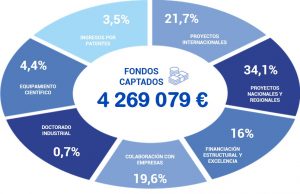 Team
The center's greatest asset is undoubtedly its research staff. The center is made up of almost 200 people, more than 55% of whom hold doctoral degrees.
The composition of the research staff shows a young center, with the capacity to retain talent and with a percentage of female researchers above current standards in the technological field.
Sustainable Development Goals