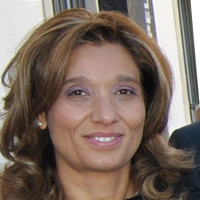 Short CV
Ana Belén Moldes is graduated in Food Science and Technology at the University of Vigo in 1996 and holds a PhD by the Chemical Engineering Department, with additional Doctorate award, which she also obtained from the University of Vigo in 2000. She has undertaken various research stays at the USDA Forest Service, bellow the USA Department of Agriculture, in Madison-Wisconsin (USA) and at the Department of Biological Engineering of the Universidad do Minho in Braga-Portugal. She was a researcher for the national "Juan de la Cierva" programme in the Department of Edaphology and Agriculture Chemistry at the University of Santiago de Compostela from 2004 to 2006. Simultaneously she was also a part-time Associate Professor in the Chemical Engineering Department at the University of Vigo from 2001 to 2006. Following she got a "Ramón & Cajal" contract, developing her research in the Chemical Engineering Department of the University of Vigo from 2006 to 2010. Highlight that in the call of 2005 "Ramon & Cajal program" she achieved the first position in the Chemical Technology area. Since 2010 she has been a full-time staff Lecturer at the Chemical Engineering Department of the University of Vigo and from 2020, she is Associate professor (Civil Servant) in the same department. In 2009 Ana Moldes together with other professor of the Ramon y Cajal Program, José M. Cruz, created the research group EQ10 team. The group is recognized by the School of Industrial Engineering of the University of Vigo research team with high potential growth. This award is also recognized by the Autonomic Government with the concession of consecutive funding from 2009 dedicated to providing financial support to research groups with potential growth.
Throughout her research career her work has focused on making use of agro-industrial residues for the biotechnological production of food and/or chemical additives, mainly lactic acid and biosurfactants, as well as obtaining bioadsorbents. To date, she has published over 140 articles in international journals and possess a H index of 35. She has co-supervised 7 PhD Theses, presented in the format of articles, obtaining from each Theses at least 6 papers published in SCI journals, and in some of these Theses various patents. She has co-authored 7 patents, published more than 10 book chapters and has presented over 150 communications at congresses. One of these patents has a PCT extension to various countries of European Union, and it is licensed by an international company.
Throughout her research career she has participated in over 20 research projects, being the main researcher in 4 National R&D Plan Research Projects, one regional project and several local ones. Regarding her transference activity in 2019 was awarded by the Royal Society Galician Academy with the "Fernando Calvet Prize" and during last years has led various transference contracts with national and international companies.
Finally, she has recognized with 3 six-year research period (the last one was recognized on 23/06/2016) and 4 five-year teaching periods.
Research results
Book Chapter
Vecino, X., Moldes, A.B., Martínez-Arcos, A., Cid-Pérez, B., López-Prieto, A., Cruz, J.M.,
Biosurfactants produced from corn steep liquor and other nonconventional sources: Their application in different industries
Biosurfactants: Research and Development, , , 2023 | DOI
Article
López-Prieto, A., Moldes, A.B., Cruz, J.M., Pérez-Cid, B.,
Fungicide Effect of a Novelty Antimicrobial Biosurfactant Extract Alone or Combined with Copper Oxychloride on Botrytis cinerea Cells
Fermentation, 9, 6, 2023 | DOI
Article
Pérez-Cid, B., Río Segade, S., Vecino, X., Moldes, A.B., Cruz, J.M.,
Effect of a Biosurfactant Extract Obtained from a Corn Kernel Fermented Stream on the Sensory Colour Properties of Apple and Orange Juices
Foods, 12, 10, 2023 | DOI
Article
Lvova, K., Martínez-Arcos, A., López-Prieto, A., Vecino, X., Moldes, A.B., Cruz, J.M.,
Optimization of the Operational Conditions to Produce Extracellular and Cell-Bound Biosurfactants by Aneurinibacillus aneurinilyticus Using Corn Steep Liquor as a Unique Source of Nutrients
Fermentation, 9, 4, 2023 | DOI
Article
Moldes, A.B., Álvarez-Chaver, P., Vecino, X., Cruz, J.M.,
Purification of lipopeptide biosurfactant extracts obtained from a complex residual food stream using Tricine-SDS-PAGE electrophoresis
Frontiers in Bioengineering and Biotechnology, 11, , 2023 | DOI
Article
López-Prieto, A., Moldes, A.B., Cruz, J.M., Pérez-Cid, B.,
Solubilization of cuprous oxide in water using biosurfactant extracts from corn steep liquor: a comparative study
Scientific Reports, 12, 1, 2022 | DOI
Article
Rodríguez-López, L., Rincón-Fontán, M., Vecino, X., Cruz, J.M., Moldes, A.B.,
Study of biosurfactant extract from corn steep water as a potential ingredient in antiacne formulations
The Journal of dermatological treatment, 33, 1, 2022 | DOI
Article
Pérez-Cid, B., Rodríguez-López, L., Moldes, A.B., Cruz, J.M., Vecino, X.,
Effect of a Multifunctional Biosurfactant Extract Obtained from Corn Steep Liquor on Orange and Apple Juices
Foods, 11, 21, 2022 | DOI
Article
Martínez-Arcos, A., Reig, M., Cruz, J.M., Cortina, J.L., Moldes, A.B., Vecino, X.
Evaluation of calcium alginate-based biopolymers as potential component of membranes for recovering biosurfactants from corn steep water
Water (Switzerland), 13, 17, 2021 | DOI
Article
Martínez-Arcos, A., López-Prieto, A., Rodríguez-López, L., Pérez-Cid, B., Vecino, X., Moldes, A.B., Manuel, C.J.
Evaluation of morphological changes in grapes coated with a biosurfactant extract obtained from corn steep liquor
Applied Sciences (Switzerland), 11, 13, 2021 | DOI
Erratum
López-Prieto, A., Vecino, X., Rodríguez-López, L., Moldes, A.B., Cruz, J.M.
Correction: Fungistatic and fungicidal capacity of a biosurfactant extract obtained from corn steep water (Foods, (2020) 9, 662, 10.3390/foods9050662)
Foods, 10, 6, 2021 | DOI
Review
Moldes, A.B., Rodríguez-López, L., Rincón-Fontán, M., López-Prieto, A., Vecino, X., Cruz, J.M.
Synthetic and bio-derived surfactants versus microbial biosurfactants in the cosmetic industry: An overview
International Journal of Molecular Sciences, 22, 5, 2021 | DOI
Article
Martínez-Arcos, A., Moldes, A.B., Vecino, X.
Adding value to secondary streams of corn wet milling industry [AÑADIENDO VALOR A LAS CORRIENTES SECUNDARIAS DE LA INDUSTRIA DE FRACCIONAMIENTO DEL MAÍZ POR VÍA HÚMEDA]
CYTA – Journal of Food, 19, 1, 2021 | DOI
Book Chapter
Vecino, X., Rodríguez-López, L., Rincón-Fontán, M., Cruz, J.M., Moldes, A.B.
Nanomaterials synthesized by biosurfactants
Comprehensive Analytical Chemistry, 94, , 2021 | DOI
Article
López-Prieto, A., Rodríguez-López, L., Rincón-Fontán, M., Cruz, J.M., Moldes, A.B.
Characterization of extracellular and cell bound biosurfactants produced by Aneurinibacillus aneurinilyticus isolated from commercial corn steep liquor
Microbiological Research, 242, , 2021 | DOI
Article
Rodríguez-López, L., López-Prieto, A., Lopez-Álvarez, M., Pérez-Davila, S., Serra, J., González, P., Cruz, J.M., Moldes, A.B.
Characterization and Cytotoxic Effect of Biosurfactants Obtained from Different Sources
ACS Omega, 5, 48, 2020 | DOI
Article
Scalzini, G., López-Prieto, A., Paissoni, M.A., Englezos, V., Giacosa, S., Rolle, L., Gerbi, V., Segade, S.R., Cid, B.P., Moldes, A.B., Cruz, J.M.
Can a corn-derived biosurfactant improve colour traits of wine? first insight on its application during winegrape skin maceration versus oenological tannins
Foods, 9, 12, 2020 | DOI
Article
Pérez-Cid, B., Calvar, S., Moldes, A.B., Manuel Cruz, J.
Effective Removal of Cyanide and Heavy Metals from an Industrial Electroplating Stream Using Calcium Alginate Hydrogels
Molecules (Basel, Switzerland), 25, 21, 2020 | DOI
Article
López-Prieto, A., Moldes, A.B., Cruz, J.M., Pérez Cid, B.
Towards more Ecofriendly Pesticides: Use of Biosurfactants Obtained from the Corn Milling Industry as Solubilizing Agent of Copper Oxychloride
Journal of Surfactants and Detergents, 23, 6, 2020 | DOI
Article
Rodríguez-López, L., Rincón-Fontán, M., Vecino, X., Cruz, J.M., Moldes, A.B.
Extraction, separation and characterization of lipopeptides and phospholipids from corn steep water
Separation and Purification Technology, 248, , 2020 | DOI
Article
Iglesias, A.M., Cruz, J.M., Moldes, A., Pérez-Cid, B.
Efficient Adsorption of Lead Ions onto Alginate–Grape Marc Hybrid Beads: Optimization and Bioadsorption Kinetics
Environmental Modeling and Assessment, 25, 5, 2020 | DOI
Article
Rincón-Fontán, M., Rodríguez-López, L., Vecino, X., Cruz, J.M., Moldes, A.B.
Potential application of a multifunctional biosurfactant extract obtained from corn as stabilizing agent of vitamin C in cosmetic formulations
Sustainable Chemistry and Pharmacy, 16, , 2020 | DOI
Article
López-Prieto, A., Vecino, X., Rodríguez-López, L., Moldes, A.B., Cruz, J.M.
Fungistatic and fungicidal capacity of a biosurfactant extract obtained from corn steep water
Foods, 9, 5, 2020 | DOI
Article
Rincón-Fontán, M., Rodríguez-López, L., Vecino, X., Cruz, J.M., Moldes, A.B.
Novel Multifunctional Biosurfactant Obtained from Corn as a Stabilizing Agent for Antidandruff Formulations Based on Zn Pyrithione Powder
ACS Omega, 5, 11, 2020 | DOI
Article
Ndiaye, B., Bustos, G., Calvar, S., Vecino, X., Cruz, J.M., Moldes, A.B., Pérez-Cid, B.
Selective Adsorption Capacity of Grape Marc Hydrogel for Adsorption of Binary Mixtures of Dyes
Water, Air, and Soil Pollution, 231, 1, 2020 | DOI
Article
Rodríguez-López, L., Rincón-Fontán, M., Vecino, X., Moldes, A.B., Cruz, J.M.
Biodegradability Study of the Biosurfactant Contained in a Crude Extract from Corn Steep Water
Journal of Surfactants and Detergents, 23, 1, 2020 | DOI
Book Chapter
Moldes, A., Vecino, X., Rodríguez-López, L., Rincón-Fontán, M., Cruz, J.M.,
Biosurfactants: The use of biomolecules in cosmetics and detergents
New and Future Developments in Microbial Biotechnology and Bioengineering: Microbial Biomolecules: Properties, Relevance, and Their Translational Applications, , , 2020 | DOI
Review
Paradelo, R., Vecino, X., Moldes, A.B., Barral, M.T.
Potential use of composts and vermicomposts as low-cost adsorbents for dye removal: an overlooked application
Environmental Science and Pollution Research, 26, 21, 2019 | DOI
Article
Rodríguez-López, L., Rincón-Fontán, M., Vecino, X., Cruz, J.M., Moldes, A.B.
Preservative and Irritant Capacity of Biosurfactants From Different Sources: A Comparative Study
Journal of Pharmaceutical Sciences, 108, 7, 2019 | DOI
Article
Knoth, D., Rincón-Fontán, M., Stahr, P.-L., Pelikh, O., Eckert, R.-W., Dietrich, H., Cruz, J.M., Moldes, A.B., Keck, C.M.
Evaluation of a biosurfactant extract obtained from corn for dermal application
International Journal of Pharmaceutics, 564, , 2019 | DOI
Article
Rodríguez-López, L., Shokry, D.S., Cruz, J.M., Moldes, A.B., Waters, L.J.
The effect of the presence of biosurfactant on the permeation of pharmaceutical compounds through silicone membrane
Colloids and Surfaces B: Biointerfaces, 176, , 2019 | DOI
Article
Rincón-Fontán, M., Rodríguez-López, L., Vecino, X., Cruz, J.M., Moldes, A.B.
Study of the synergic effect between mica and biosurfactant to stabilize Pickering emulsions containing Vitamin E using a triangular design
Journal of Colloid and Interface Science, 537, , 2019 | DOI
Article
López-Prieto, A., Rodríguez-López, L., Rincón-Fontán, M., Moldes, A.B., Cruz, J.M.
Effect of biosurfactant extract obtained from the corn-milling industry on probiotic bacteria in drinkable yogurt
Journal of the Science of Food and Agriculture, 99, 2, 2019 | DOI
Article
López-Prieto, A., Martínez-Padrón, H., Rodríguez-López, L., Moldes, A.B., Cruz, J.M.
Isolation and characterization of a microorganism that produces biosurfactants in corn steep water [Aislamiento y caracterización del microorganismo responsable de la producción de biosurfactantes en licores de lavado de maíz]
CYTA – Journal of Food, 17, 1, 2019 | DOI
Article
López-Prieto, A., Vecino, X., Rodríguez-López, L., Moldes, A.B., Cruz, J.M.
A multifunctional biosurfactant extract obtained from corn steep water as bactericide for agrifood industry
Foods, 8, 9, 2019 | DOI
Article
Rodríguez-López, L., Rincón-Fontán, M., Vecino, X., Cruz, J.M., Moldes, A.B.
Biological surfactants vs. polysorbates: Comparison of their emulsifier and surfactant properties
Tenside, Surfactants, Detergents, 55, 4, 2018 | DOI
Article
Bustos-Vázquez, G., Vidal-Fontela, A., Vecino-Bello, X., Cruz-Freire, J.M., Moldes-Menduiña, A.B.
Usage of biosurfactants extracted from corn steep liquor to eliminate burned engine oil on sandy soil [Uso de biosurfactantes extraidos de los licores de lavado de maíz para la eliminación de aceite quemado de motor en suelo arenoso]
Agrociencia, 52, 4, 2018 | DOI
Article
Bustos, G., Arcos, U., Vecino, X., Cruz, J.M., Moldes, A.B.
Recycled Lactobacillus pentosus biomass can regenerate biosurfactants after various fermentative and extractive cycles
Biochemical Engineering Journal, 132, , 2018 | DOI
Article
Vecino, X., Rodríguez-López, L., Ferreira, D., Cruz, J.M., Moldes, A.B., Rodrigues, L.R.
Bioactivity of glycolipopeptide cell-bound biosurfactants against skin pathogens
International Journal of Biological Macromolecules, 109, , 2018 | DOI
Article
Rincón-Fontán, M., Rodríguez-López, L., Vecino, X., Cruz, J.M., Moldes, A.B.
Design and characterization of greener sunscreen formulations based on mica powder and a biosurfactant extract
Powder Technology, 327, , 2018 | DOI
Article
Bustos, G., Calvar, S., Vecino, X., Cruz, J.M., Moldes, A.B.
Industrial Symbiosis Between the Winery and Environmental Industry Through the Utilization of Grape Marc for Water Desalination Containing Copper(II)
Water, Air, and Soil Pollution, 229, 2, 2018 | DOI
Article
Vecino, X., Rodríguez-López, L., Gudiña, E.J., Cruz, J.M., Moldes, A.B., Rodrigues, L.R.
Vineyard pruning waste as an alternative carbon source to produce novel biosurfactants by Lactobacillus paracasei
Journal of Industrial and Engineering Chemistry, 55, , 2017 | DOI
Review
Vecino, X., Cruz, J.M., Moldes, A.B., Rodrigues, L.R.
Biosurfactants in cosmetic formulations: trends and challenges
Critical Reviews in Biotechnology, 37, 7, 2017 | DOI
Article
Ferreira, A., Vecino, X., Ferreira, D., Cruz, J.M., Moldes, A.B., Rodrigues, L.R.
Novel cosmetic formulations containing a biosurfactant from Lactobacillus paracasei
Colloids and Surfaces B: Biointerfaces, 155, , 2017 | DOI
Article
Gómez-Graña, S., Perez-Ameneiro, M., Vecino, X., Pastoriza-Santos, I., Perez-Juste, J., Cruz, J.M., Moldes, A.B.
Biogenic synthesis of metal nanoparticles using a biosurfactant extracted from corn and their antimicrobial properties
Nanomaterials, 7, 6, 2017 | DOI
Article
Rincón-Fontán, M., Rodríguez-López, L., Vecino, X., Cruz, J.M., Moldes, A.B.
Influence of micelle formation on the adsorption capacity of a biosurfactant extracted from corn on dyed hair
RSC Advances, 7, 27, 2017 | DOI
Book Chapter
Moldes, A.B., Vecino, X., Cruz, J.M.
Nutraceuticals and Food Additives
Current Developments in Biotechnology and Bioengineering: Food and Beverages Industry, , , 2017 | DOI
Article
Rodríguez-López, L., Rincón-Fontán, M., Vecino, X., Cruz, J.M., Moldes, A.
Ionic Behavior Assessment of Surface-Active Compounds from Corn Steep Liquor by Exchange Resins
Journal of Surfactants and Detergents, 20, 1, 2017 | DOI
Article
Vecino, X., Devesa-Rey, R., de Lima Stebbins, D.M., Moldes, A.B., Cruz, J.M., Alcantar, N.A.
Evaluation of a cactus mucilage biocomposite to remove total arsenic from water
Environmental Technology and Innovation, 6, , 2016 | DOI
Article
Rodríguez-López, L., Vecino, X., Barbosa-Pereira, L., Moldes, A.B., Cruz, J.M.
A multifunctional extract from corn steep liquor: Antioxidant and surfactant activities
Food and Function, 7, 9, 2016 | DOI
Article
Rincón-Fontán, M., Rodríguez-López, L., Vecino, X., Cruz, J.M., Moldes, A.B.
Adsorption of natural surface active compounds obtained from corn on human hair
RSC Advances, 6, 67, 2016 | DOI
Article
Vecino, X., Devesa-Rey, R., Villagrasa, S., Cruz, J.M., Moldes, A.B.
Kinetic and morphology study of alginate-vineyard pruning waste biocomposite vs. non modified vineyard pruning waste for dye removal
Journal of Environmental Sciences (China), 38, , 2015 | DOI
Article
Perez-Ameneiro, M., Vecino, X., Cruz, J.M., Moldes, A.B.
Physicochemical study of a bio-based adsorbent made from grape marc
Ecological Engineering, 84, , 2015 | DOI
Article
Vecino, X., Barbosa-Pereira, L., Devesa-Rey, R., Cruz, J.M., Moldes, A.B.
Optimization of liquid–liquid extraction of biosurfactants from corn steep liquor
Bioprocess and Biosystems Engineering, 38, 9, 2015 | DOI
Article
Vecino, X., Rodríguez-López, L., Cruz, J.M., Moldes, A.B.
Sewage Sludge Polycyclic Aromatic Hydrocarbon (PAH) Decontamination Technique Based on the Utilization of a Lipopeptide Biosurfactant Extracted from Corn Steep Liquor
Journal of Agricultural and Food Chemistry, 63, 32, 2015 | DOI
Article
Perez-Ameneiro, M., Vecino, X., Cruz, J.M., Moldes, A.B.
Wastewater treatment enhancement by applying a lipopeptide biosurfactant to a lignocellulosic biocomposite
Carbohydrate Polymers, 131, , 2015 | DOI
Article
Perez-Ameneiro, M., Bustos, G., Vecino, X., Barbosa-Pereira, L., Cruz, J.M., Moldes, A.B.
Heterogenous Lignocellulosic Composites as Bio-Based Adsorbents for Wastewater Dye Removal: A Kinetic Comparison
Water, Air, and Soil Pollution, 226, 5, 2015 | DOI
Article
Cela-Pérez, M.C., Barbosa-Pereira, L., Vecino, X., Pérez-Ameneiro, M., Latorre, A.L., López-Vilariño, J.M., González Rodríguez, M.V., Moldes, A.B., Cruz, J.M.
Selective removal of ATP degradation products from food matrices II: Rapid screening of hypoxanthine and inosine by molecularly imprinted matrix solid-phase dispersion for evaluation of fish freshness
Talanta, 135, , 2015 | DOI
Article
Vecino, X., Devesa-Rey, R., Cruz, J.M., Moldes, A.B.
Study of the physical properties of calcium alginate hydrogel beads containing vineyard pruning waste for dye removal
Carbohydrate Polymers, 115, , 2015 | DOI
Article
Vecino, X., Bustos, G., Devesa-Rey, R., Cruz, J.M., Moldes, A.B.
Salt-free aqueous extraction of a cell-bound biosurfactant: A kinetic study
Journal of Surfactants and Detergents, 18, 2, 2015 | DOI
Article
Vecino, X., Barbosa-Pereira, L., Devesa-Rey, R., Cruz, J.M., Moldes, A.B.
Optimization of extraction conditions and fatty acid characterization of Lactobacillus pentosus cell-bound biosurfactant/bioemulsifier
Journal of the Science of Food and Agriculture, 95, 2, 2015 | DOI
Article
Vecino, X., Barbosa-Pereira, L., Devesa-Rey, R., Cruz, J.M., Moldes, A.B.
Study of the surfactant properties of aqueous stream from the corn milling industry
Journal of Agricultural and Food Chemistry, 62, 24, 2014 | DOI
Article
Bustos, G., Carrizales, M.A., Cervantes, E., Vecino, X., Moldes, A.B.
Treatment of wastewater from sugarcane using entrapped activated carbon
CYTA – Journal of Food, 12, 2, 2014 | DOI
Article
Perez-Ameneiro, M., Vecino, X., Vega, L., Devesa-Rey, R., Cruz, J.M., Moldes, A.B.
Elimination of micronutrients from winery wastewater using entrapped grape marc in alginate beads
CYTA – Journal of Food, 12, 1, 2014 | DOI
Conference Paper
Vecino, X., Devesa-Rey, R., Dominguez, J.M., Cruz, J.M., Moldes, A.B.
Effect of soil loading and ph during batch solvent extraction of fluorene from soil using a lipopetide biosurfactant aqueous solution
IMETI 2014 – 7th International Multi-Conference on Engineering and Technological Innovation, Proceedings, , , 2014 | DOI
Conference Paper
Vecino, X., Perez-Ameneiro, M., Barbosa-Pereira, L., Devesa-Rey, R., Dominguez, J.M., Moldes, A.B., Cruz, J.M.
Simultaneous production of biosurfactants and coagulants floculants from trimming vineyards
IMETI 2014 – 7th International Multi-Conference on Engineering and Technological Innovation, Proceedings, , , 2014 | DOI
Conference Paper
Torrado-Agrasar, A., Perez-Rodriguez, N., Perez-Bibbins, B., Moldes, A.B., Cruz, J.M., Gonzalez, J.M.D.
Strategies to enhance the enzymatic generation of xylose from corn cob for xylitol production
IMETI 2014 – 7th International Multi-Conference on Engineering and Technological Innovation, Proceedings, , , 2014 | DOI
Book Chapter
Moldes, A.B.
Review on the Utilization of Low-cost Substrates to Obtain Metabolites for Protection of the Environment
The Role of Colloidal Systems in Environmental Protection, , , 2014 | DOI
Article
Vecino, X., Devesa-Rey, R., Moldes, A.B., Cruz, J.M.
Formulation of an alginate-vineyard pruning waste composite as a new eco-friendly adsorbent to remove micronutrients from agroindustrial effluents
Chemosphere, 111, , 2014 | DOI
Article
Perez-Ameneiro, M., Vecino, X., Barbosa-Pereira, L., Cruz, J.M., Moldes, A.B.
Removal of pigments from aqueous solution by a calcium alginate-grape marc biopolymer: A kinetic study
Carbohydrate Polymers, 101, 1, 2014 | DOI
Editorial
Moldes, A., González, J.M.D., Rodrigues, L.R.M., Converti, A.
New trends in biotechnological processes to increase the environmental protection
BioMed Research International, 2013, , 2013 | DOI
Article
Vecino, X., Devesa-Rey, R., Cruz, J.M., Moldes, A.B.
Evaluation of biosurfactant obtained from Lactobacillus pentosus as foaming agent in froth flotation
Journal of Environmental Management, 128, , 2013 | DOI
Article
Moldes, A.B., Paradelo, R., Vecino, X., Cruz, J.M., Gudiña, E., Rodrigues, L., Teixeira, J.A., Domínguez, J.M., Barral, M.T.
Partial characterization of biosurfactant from lactobacillus pentosus and comparison with sodium dodecyl sulphate for the bioremediation of hydrocarbon contaminated soil
BioMed Research International, 2013, , 2013 | DOI
Article
Vecino, X., Devesa-Rey, R., Cruz, J.M., Moldes, A.B.
Entrapped peat in alginate beads as green adsorbent for the elimination of dye compounds from vinasses
Water, Air, and Soil Pollution, 224, 3, 2013 | DOI
Article
Paradelo, R., Moldes, A.B., Barral, M.T.
Evolution of organic matter during the mesophilic composting of lignocellulosic winery wastes
Journal of Environmental Management, 116, , 2013 | DOI
Article
Paradelo, R., Moldes, A.B., González, D., Barral, M.T.
Plant tests for determining the suitability of grape marc composts as components of plant growth media
Waste Management and Research, 30, 10, 2012 | DOI
Article
Vecino, X., Devesa-Rey, R., Moldes, A.B., Cruz, J.M.
Optimization of batch operating conditions for the decolourization of vinasses using surface response methodology
Microchemical Journal, 102, , 2012 | DOI
Article
Vecino Bello, X., Devesa-Rey, R., Cruz, J.M., Moldes, A.B.
Study of the synergistic effects of salinity, pH, and temperature on the surface-active properties of biosurfactants produced by Lactobacillus pentosus
Journal of Agricultural and Food Chemistry, 60, 5, 2012 | DOI
Article
Devesa-Rey, R., Bustos, G., Cruz, J.M., Moldes, A.B.
Evaluation of non-conventional coagulants to remove turbidity from water
Water, Air, and Soil Pollution, 223, 2, 2012 | DOI
Conference Paper
Cruz, J.M., Vecino, X., Devesa-Rey, R., Moldes, A.B.
Optimization of operational conditions to the treatment of vinasses using entrraped activated carbon: An incomplete factorial design
IMETI 2011 – 4th International Multi-Conference on Engineering and Technological Innovation, Proceedings, 1, , 2011 | DOI
Conference Paper
Moldes, A.B., Vecino, X., Devesa-Rey, R., Cruz, J.M.
Advances for environmental protection: Biosurfactants produced by lactobacilluspentosus from trimming vine shoots as alternative to chemical surfactants
IMETI 2011 – 4th International Multi-Conference on Engineering and Technological Innovation, Proceedings, 1, , 2011 | DOI
Article
Paradelo, R., Moldes, A.B., Barral, M.T.
Carbon and nitrogen mineralization in a vineyard soil amended with grape marc vermicompost
Waste Management and Research, 29, 11, 2011 | DOI
Article
Devesa-Rey, R., Vecino, X., Varela-Alende, J.L., Barral, M.T., Cruz, J.M., Moldes, A.B.
Valorization of winery waste vs. the costs of not recycling
Waste Management, 31, 11, 2011 | DOI
Article
Devesa-Rey, R., Fernández, N., Cruz, J.M., Moldes, A.B.
Optimization of the dose of calcium lactate as a new coagulant for the coagulation-flocculation of suspended particles in water
Desalination, 280, 44256, 2011 | DOI
Article
Moldes, A.B., Paradelo, R., Rubinos, D., Devesa-Rey, R., Cruz, J.M., Barral, M.T.
Ex situ treatment of hydrocarbon-contaminated soil using biosurfactants from lactobacillus pentosus
Journal of Agricultural and Food Chemistry, 59, 17, 2011 | DOI
Article
Devesa-Rey, R., Vecino, X., Barral, M.T., Cruz, J.M., Moldes, A.B.
Study of the sorption of biosurfactants from L. Pentosus on sediments
World Academy of Science, Engineering and Technology, 79, , 2011 | DOI
Article
Devesa-Rey, R., Bustos, G., Cruz, J.M., Moldes, A.B.
Optimisation of entrapped activated carbon conditions to remove coloured compounds from winery wastewaters
Bioresource Technology, 102, 11, 2011 | DOI
Article
Paradelo, R., Villada, A., Devesa-Rey, R., Moldes, A.B., Domínguez, M., Patiño, J., Barral, M.T.
Distribution and availability of trace elements in municipal solid waste composts
Journal of Environmental Monitoring, 13, 1, 2011 | DOI
Conference Paper
Fernández-Silva, I., Sanmartín, P., Silva, B., Moldes, A., Prieto, B.
Quantification of phototrophic biomass on rocks: Optimization of chlorophyll-a extraction by response surface methodology
Journal of Industrial Microbiology and Biotechnology, 38, 1, 2011 | DOI
Article
Paradelo, R., Prieto, B., Sandu, R.G., Barral, M.T., Moldes, A.B.
Can stability and maturity be evaluated in finished composts from different sources?
Compost Science and Utilization, 18, 1, 2010 | DOI
Article
Paradelo, R., Prieto, B., Moldes, A.B., Barral, M.T.
Monitoring winery waste composting by means of colour measures [Seguimiento del compostaje de residuos vitivinícolas mediante medidas de color]
Optica Pura y Aplicada, 43, 4, 2010 | DOI
Article
Devesa-Rey, R., Moldes, A.B., Sanmartin, P., Prieto-Fernández, Á., Barral, M.T.
Application of an incomplete factorial design for the formation of an autotrophic biofilm on river bed sediments at a microcosms scale
Journal of Soils and Sediments, 10, 8, 2010 | DOI
Article
Portilla-Rivera, O.M., Torrado, A.M., Domínguez, J.M., Moldes, A.B.
Stabilization of kerosene/water emulsions using bioemulsifiers obtained by fermentation of hemicellulosic sugars with lactobacillus pentosus
Journal of Agricultural and Food Chemistry, 58, 18, 2010 | DOI
Article
Paradelo, R., Moldes, A.B., Barral, M.T.
Utilization of a factorial design to study the composting of hydrolyzed grape marc and vinification lees
Journal of Agricultural and Food Chemistry, 58, 5, 2010 | DOI
Article
Portilla-Rivera, O.M., Torrado-Agrasar, A., Carballo, J., Domínguez, J.M., Moldes, A.B.
Development of a factorial design to study the effect of the major hemicellulosic sugars on the production of surface-active compounds by L. pentosus
Journal of Agricultural and Food Chemistry, 57, 19, 2009 | DOI
Article
Barral, M.T., Paradelo, R., Moldes, A.B., Domínguez, M., Díaz-Fierros, F.
Utilization of MSW compost for organic matter conservation in agricultural soils of NW Spain
Resources, Conservation and Recycling, 53, 9, 2009 | DOI
Article
Paradelo, R., Moldes, A.B., Dominguez, J.M., Barral, M.T.
Reduction of water repellence of hydrophobic plant substrates using biosurfactant produced from hydrolyzed grape marc
Journal of Agricultural and Food Chemistry, 57, 11, 2009 | DOI
Article
Max, B., Torrado, A.M., Moldes, A.B., Converti, A., Domínguez, J.M.
Ferulic acid and p-coumaric acid solubilization by alkaline hydrolysis of the solid residue obtained after acid prehydrolysis of vine shoot prunings: Effect of the hydroxide and pH
Biochemical Engineering Journal, 43, 2, 2009 | DOI
Article
Rivera, Ó.M.P., Torrado, A.M., Moldes, A.B., Domínguez, J.M.
Minerals and organic nitrogen present in grape marc hydrolyzates enhance xylose consumption by Lactobacillus pentosus
Applied Biochemistry and Biotechnology, 152, 2, 2009 | DOI
Article
Paradelo, R., Devesa-Rey, R., Moldes, A.B., Barral, M.T.
Study of the hydraulic properties of slate processing fines and fitting to Van Genuchten´s model
Boletin Geologico y Minero, 120, 1, 2009 | DOI
Article
Paradelo, R., Moldes, A.B., Barral, M.T.
Amelioration of the physical properties of slate processing fines using grape marc compost and vermicompost
Soil Science Society of America Journal, 73, 4, 2009 | DOI
Article
Devesa-Rey, R., Moldes, A.B., Díaz-Fierros, F., Barral, M.T.
Study of phytopigments in river bed sediments: Effects of the organic matter, nutrients and metal composition
Environmental Monitoring and Assessment, 153, 44287, 2009 | DOI
Article
Paradelo, R., Moldes, A.B., Barral, M.T.
Treatment of red wine vinasses with non-conventional substrates for removing coloured compounds
Water Science and Technology, 59, 8, 2009 | DOI
Article
Paradelo Núñez, R., Moldes, A.B., Barral, M.T., Moldes, A.B.
Magnetic susceptibility as an indicator of heavy metal contamination in compost
Waste Management and Research, 27, 1, 2009 | DOI
Article
Paradelo, R., Moldes, A.B., Barral, M.T.
Properties of slate mining wastes incubated with grape marc compost under laboratory conditions
Waste Management, 29, 2, 2009 | DOI
Article
Portilla, O.M., Rivas, B., Torrado, A., Moldes, A.B., Domínguez, J.M.
Revalorisation of vine trimming wastes using Lactobacillus acidophilus and Debaryomyces hansenii
Journal of the Science of Food and Agriculture, 88, 13, 2008 | DOI
Article
Portilla-Rivera, O., Torrado, A., Domínguez, J.M., Moldes, A.B.
Stability and emulsifying capacity of biosurfactants obtained from lignocellulosic sources using Lactobacillus pentosus
Journal of Agricultural and Food Chemistry, 56, 17, 2008 | DOI
Article
Moldes, A.B., Vázquez, M., Domínguez, J.M., Díaz-Fierros, F., Barral, M.T.
Negative effect of discharging vinification lees on soils
Bioresource Technology, 99, 13, 2008 | DOI
Article
Devesa-Rey, R., Moldes, A.B., Díaz-Fierros, F., Barral, M.T.
Toxicity of Anllóns River sediment extracts using microtox and the zucconi phytotoxicity test
Bulletin of Environmental Contamination and Toxicology, 80, 3, 2008 | DOI
Article
Paradelo, R., Moldes, A.B., Rodríguez, M., Barral, M.T.
Relationship between heavy metals and phytotoxicity in composts [Relación entre metales pesados y fitotoxicidad en composts]
Ciencia y Tecnologia Alimentaria, 6, 2, 2008 | DOI
Conference Paper
Cendón, Y., Moldes, A., Barral, M.T.
Evaluation of municipal solid waste compost as a growing media component for potted plant production
Acta Horticulturae, 779, , 2008 | DOI
Article
Paradelo, R., Moldes, A.B., Barral, M.T.
Characterization of slate processing fines according to parameters of relevance for mine spoil reclamation
Applied Clay Science, 41, 44289, 2008 | DOI
Article
Paradelo Núñez, R., Devesa Rey, R., Belén Moldes Menduíña, A., Teresa Barral Silva, M.
Physiologically based extraction of heavy metals in compost: Preliminary results
Journal of Trace Elements in Medicine and Biology, 21, SUPPL. 1, 2007 | DOI
Article
Moldes, A.B., Bustos, G., Torrado, A., Domínguez, J.M.
Comparison between different hydrolysis processes of vine-trimming waste to obtain hemicellulosic sugars for further lactic acid conversion
Applied Biochemistry and Biotechnology, 143, 3, 2007 | DOI
Article
Moldes, A., Cendón, Y., Barral, M.T.
Evaluation of municipal solid waste compost as a plant growing media component, by applying mixture design
Bioresource Technology, 98, 16, 2007 | DOI
Article
Paradelo, R., Cendón, Y., Moldes, A.B., Barral, M.T.
A pot experiment with mixtures of slate processing fines and compost
Geoderma, 141, 44289, 2007 | DOI
Article
Devesa, R., Moldes, A., Díaz-Fierros, F., Barral, M.T.
Extraction study of algal pigments in river bed sediments by applying factorial designs
Talanta, 72, 4, 2007 | DOI
Article
Rivas, B., Torrado, A., Rivas, S., Moldes, A.B., Domínguez, J.M.
Simultaneous lactic acid and xylitol production from vine trimming wastes
Journal of the Science of Food and Agriculture, 87, 8, 2007 | DOI
Article
Rivera, O.M.P., Moldes, A.B., Torrado, A.M., Domínguez, J.M.
Lactic acid and biosurfactants production from hydrolyzed distilled grape marc
Process Biochemistry, 42, 6, 2007 | DOI
Article
Moldes, A.B., Torrado, A.M., Barral, M.T., Domínguez, J.M.
Evaluation of biosurfactant production from various agricultural residues by Lactobacillus pentosus
Journal of Agricultural and Food Chemistry, 55, 11, 2007 | DOI
Article
Cruz, J.M., Moldes, A.B., Bustos, G., Torrado, A., Domínguez, J.M.
Integral utilisation of barley husk for the production of food additives
Journal of the Science of Food and Agriculture, 87, 6, 2007 | DOI
Article
Moldes, A.B., Vázquez, M., Domínguez, J.M., Díaz-Fierros, F., Barral, M.T.
Evaluation of mesophilic biodegraded grape marc as soil fertilizer
Applied Biochemistry and Biotechnology, 141, 1, 2007 | DOI
Article
Barral Silva, M.T., Menduíña, A.M., Seijo, Y.C., Viqueira, F.D.-F.
Assessment of municipal solid waste compost quality using standardized methods before preparation of plant growth media
Waste Management and Research, 25, 2, 2007 | DOI
Article
Bustos, G., de la Torre, N., Moldes, A.B., Cruz, J.M., Domínguez, J.M.
Revalorization of hemicellulosic trimming vine shoots hydrolyzates trough continuous production of lactic acid and biosurfactants by L. pentosus
Journal of Food Engineering, 78, 2, 2007 | DOI
Article
Moldes, A.B., Torrado, A., Converti, A., Domínguez, J.M.
Complete bioconversion of hemicellulosic sugars from agricultural residues into lactic acid by Lactobacillus pentosus
Applied Biochemistry and Biotechnology, 135, 3, 2006 | DOI
Article
Rivas, B., Torrado, A., Moldes, A.B., Domínguez, J.M.
Tartaric acid recovery from distilled lees and use of the residual solid as an economic nutrient for Lactobacillus
Journal of Agricultural and Food Chemistry, 54, 20, 2006 | DOI
Article
Rodrigues, L., Moldes, A., Teixeira, J., Oliveira, R.
Kinetic study of fermentative biosurfactant production by Lactobacillus strains
Biochemical Engineering Journal, 28, 2, 2006 | DOI
Article
Moldes, A., Cendón, Y., Barral, M.T., López, E.
Biological quality of potting media based on msw composts: A comparative study
Compost Science and Utilization, 14, 4, 2006 | DOI
Article
Bustos, G., Moldes, A.B., Cruz, J.M., Domínguez, J.M.
Influence of the metabolism pathway on lactic acid production from hemicellulosic trimming vine shoots hydrolyzates using Lactobacillus pentosus
Biotechnology Progress, 21, 3, 2005 | DOI
Article
Bustos, G., Moldes, A.B., Cruz, J.M., Domínguez, J.M.
Production of lactic acid from vine-trimming wastes and viticulture lees using a simultaneous saccharification fermentation method
Journal of the Science of Food and Agriculture, 85, 3, 2005 | DOI
Article
Rivas, B., Moldes, A.B., Domínguez, J.M., Parajó, J.C.
Development of culture media containing spent yeast cells of Debaryomyces hansenii and corn steep liquor for lactic acid production with Lactobacillus rhamnosus
International Journal of Food Microbiology, 97, 1, 2004 | DOI
Article
Bustos, G., Moldes, A.B., Cruz, J.M., Domínguez, J.M.
Production of fermentable media from vine-trimming wastes and bioconversion into lactic acid by Lactobacillus pentosus
Journal of the Science of Food and Agriculture, 84, 15, 2004 | DOI
Article
Bustos, G., Moldes, A.B., Cruz, J.M., Domínguez, J.M.
Evaluation of vinification lees as a general medium for Lactobacillus strains
Journal of Agricultural and Food Chemistry, 52, 16, 2004 | DOI
Article
Rivas, B., Moldes, A.B., Domínguez, J.M., Parajó, J.C.
Lactic acid production from corn cobs by simultaneous saccharification and fermentation: A mathematical interpretation
Enzyme and Microbial Technology, 34, 7, 2004 | DOI
Article
Bustos, G., Moldes, A.B., Cruz, J.M., Domínguez, J.M.
Formulation of Low-Cost Fermentative Media for Lactic Acid Production with Lactobacillus rhamnosus Using Vinification Lees as Nutrients
Journal of Agricultural and Food Chemistry, 52, 4, 2004 | DOI
Article
Bustos, G., Moldes, A.B., Alonso, J.L., Vázquez, M.
Optimization of D-lactic acid production by Lactobacillus coryniformis using response surface methodology
Food Microbiology, 21, 2, 2004 | DOI
Article
Yáñez, R., Moldes, A.B., Alonso, J.L., Parajó, J.C.
Production of D(-)-lactic acid from cellulose by simultaneous saccharification and fermentation using Lactobacillus coryniformis subsp. torquens
Biotechnology Letters, 25, 14, 2003 | DOI
Article
Moldes, A.B., Alonso, J.L., Parajó, J.C.
Recovery of lactic acid from simultaneous saccharification and fermentation media using anion exchange resins
Bioprocess and Biosystems Engineering, 25, 6, 2003 | DOI
Article
Alonso, J.L., Yáñez, R., Abad, S., Moldes, A.B.
Biotechnological processes to obtain products of high value from waste paper and cardboard [Procesos biotecnológicos para la obtención de productos de alto valor a partir de papel y cartón residual]
Afinidad, 60, 504, 2003 | DOI
Article
Téllez-Luis, S.J., Moldes, A.B., Vázquez, M., Alonso, J.L.
Alternative media for lactic acid production by Lactobacillus delbrueckii NRRL B-445
Food and Bioproducts Processing: Transactions of the Institution of of Chemical Engineers, Part C, 81, 3, 2003 | DOI
Article
Téllez-Luis, S.J., Moldes, A.B., Alonso, J.L., Vázquez, M.
Optimization of lactic acid production by Lactobacillus delbrueckii through response surface methodology
Journal of Food Science, 68, 4, 2003 | DOI
Article
Moldes, A.B., Cruz, J.M., Domínguez, J.M., Parajó, J.C.
Production of a cellulosic substrate susceptible to enzymatic hydrolysis from prehydrolyzed barley husks
Agricultural and Food Science in Finland, 11, 1, 2002 | DOI
Article
Sreenath, H.K., Koegel, R.G., Moldes, A.B., Jeffries, T.W., Straub, R.J.
Ethanol production from alfalfa fiber fractions by saccharification and fermentation
Process Biochemistry, 36, 12, 2001 | DOI
Article
Moldes, A.B., Alonso, J.L., Parajó, J.C.
Strategies to improve the bioconversion of processed wood into lactic acid by simultaneous saccharification and fermentation
Journal of Chemical Technology and Biotechnology, 76, 3, 2001 | DOI
Article
Sreenath, H.K., Moldes, A.B., Koegel, R.G., Straub, R.J.
Lactic acid production from agriculture residues
Biotechnology Letters, 23, 3, 2001 | DOI
Article
Sreenath, H.K., Moldes, A.B., Koegel, R.G., Straub, R.J.
Lactic acid production by simultaneous saccharification and fermentation of alfalfa fiber
Journal of Bioscience and Bioengineering, 92, 6, 2001 | DOI
Article
Moldes, A.B., Alonso, J.L., Parajó, J.C.
Resin selection and single-step production and recovery of lactic acid from pretreated wood
Applied Biochemistry and Biotechnology – Part A Enzyme Engineering and Biotechnology, 95, 2, 2001 | DOI
Article
Moldes, A.B., Alonso, J.L., Parajó, J.C.
Multi-step feeding systems for lactic acid production by simultaneous saccharification and fermentation of processed wood
Bioprocess Engineering, 22, 2, 2000 | DOI
Article
Sreenath, H.K., Koegel, R.G., Moldes, A.B., Jeffries, T.W., Straub, R.J.
Enzymic saccharification of alfalfa fibre after liquid hot water pretreatment
Process Biochemistry, 35, 44228, 1999 | DOI
Article
Moldes, A.B., Alonso, J.L., Parajó, J.C.
Cogeneration of cellobiose and glucose from pretreated wood and bioconversion to lactic acid: A kinetic study
Journal of Bioscience and Bioengineering, 87, 6, 1999 | DOI
Article
Moldes, A.B., Alonso, J.L., Parajó, J.C.
Bioconversion of wood pretreated simultaneously with hydrolysis and fermentation: Obtention of lactic acid in systems with substrate feed in several steps [Bioconversión de madera pretratada por hidrólisis y fermentación simultáneas: Obtención de ácido láctico en sistemas con alimentación de sustrato en varias etapas]
Afinidad, 55, 478, 1998 | DOI
Article
Parajó, J.C., Alonso, J.L., Moldes, A.B.
Production of lactic acid from lignocellulose in a single stage of hydrolysis and fermentation
Food Biotechnology, 11, 1, 1997 | DOI
SURFACORN: Aplicación del extracto biosurfactante obtenido de los licores de lavado de maíz para usos cosméticos y farmacéuticos utilizando datos multiescala y multifuentes
Ref.: IN855A 2021/11
01/01/2022 – 31/12/2023 | Xunta de Galicia
Directors: Ana Belén Moldes Menduíña
Usos potenciales del biosurfactante obtenido a partir de licores de lavado de maíz en la industria agroquímica
Ref.: RTI2018-093610-B-I00
01/01/2019 – 31/12/2021 | Ministerio de Ciencia e Innovación
Directors: Ana Belén Moldes Menduíña; José Manuel Cruz Freire
Production and extraction of biosurfactant for applications in the cosmetic industry
25/07/2018 | Ana Belén Moldes Menduíña; José Manuel Cruz Freire